I've decided to keep a photo-log of our kitchen renovation project with the hopes that we will look back at the photo's and perhaps reminisce fondly about the sheer chaos that our lives became. At this point however I'm beginning to wonder if we will survive. I tried to convince my mom that care packages containing food and royal chinet would be a fabulous idea but I don't think she took me seriously. Tomorrow we get to put in dry-wall and rip up the floor. I am giddy with anticipation.
The kitchen is now devoid of anything that makes it function as a kitchen. No counters, no cupboards, no sink. The water supply to the fridge filter is turned off thus rendering all house water undrinkable. You would think that we would have thought to purchase water somewhere before we did this wouldn't you.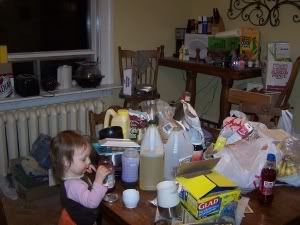 Because we have no kitchen, the dining room is now covered in all things kitcheny and the kids are really enjoying the fact that everything that they could possibly want to get into is now right there in the open.
Things like jam......
.....and large tubs of protein powder.